Oct 06
universalheadDesign 7 Comments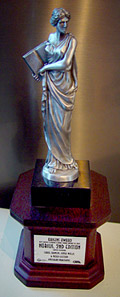 Well, I won it three years ago—I only just received it! Back in 2001 I was in London and doing a bit of work for various companies there, one of whom was a game publisher called Hogshead Publishing, who at the time were putting out, among other things, the excellent Warhammer Fantasy Roleplay. I worked on the logo and cover layout of one of the WFRP tomes, Realms of Sorcery, and also designed the cover of a bizarre roleplaying game called Nobilis. It so happened that at the next Origins Awards, 'the industry's premier awards for recognizing excellence in hobby games publishing', Nobilis won 'Best Graphic Design of a Book Format Product of 2002', an accolade I share with James Wallis and Carol Johnson, who did the book's interior.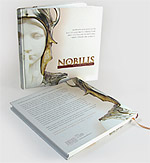 If you've ever seen a bunch of gaming products on the shelf you'll notice that they all tend to fall into the 'bright colours, monsters and buxom warrior women' kind of mould, but James, who owned Hogshead (and did most of the work) had the courage to do something different with this product. We'd sit in the pub next to his office and discuss his ideas for it over a few pints. Instead of battling beasties, he wanted to use the stark image of the Art Nouveau sculpture Sphinx Mysterieux by Charles van der Stappe.

The job was a graphic designers dream—given such excellent source material, my instant solution was to feature it large and closely cropped with a simple yet elegant logo treatment. The image wraps over the covers and the bust's pupil forms the 'o' of Nobilis on the spine. I had the pleasure of designing for a large format square hardcover, unusual in publishing. Inside, James did a beautiful job with the layout, with full page, surreal B&W illustrations and a perfectionist's eye for detail. Everything about the book made it stand out from the usual gaming fare (including the content, I might add).
I continued the concept with the follow up, The Game of Powers. They're jobs I'm still proud of—every review of Nobilis I've read praises the design. So it's nice to have this surprisingly solid and well-made award sitting on my desk three years on. Not only does it remind me of a job well done, but it takes me back to London, 2001, and the wonderful people I met there.