Apr 06
universalheadDesign grumpy 9 Comments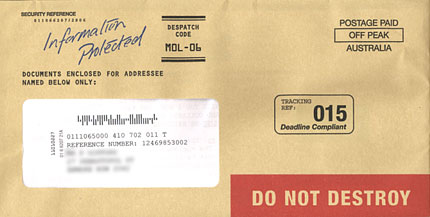 I've got nothing against business wanting to do business. We live in a capitalist society after all. But some businesses seem to think that any method of deception is justifiable in their quest for profit. And to me, this kind of thing is pretty much on the same level as the endless spam emails that fill your Inbox every day trying to convice you that a patch will make your penis bigger.
Take for example, the letter I received yesterday, shown above, from our friends at Reader's Digest. You'd be forgiven for thinking that this was actually an important document of some kind, covered as it is with a despatch code, a 'deadline compliant' tracking reference number, a security reference number; not to mention the big red bar with DO NOT DESTROY on it, and the official-looking brown paper the envelope is made of. There's even a printed 'hand-written' touch—'information protected'.
What does all this mean? I'm special! It's for me, and me only! If you tear open this tissue of lies the crap continues inside— the letter repeats the 'deadline compliant' graphic, but this time to look like a green sticker; the endless reference numbers continue, the letter is personalised throughout. Someone didn't return their Sweepstakes entry—and that mistake cost them $50,000! I've passed two of the three stages necessary to win up to FIVE HUNDRED THOUSAND DOLLARS! There are lots of CAPITALS and bolded words! My neighbours—apparently—are looking in their letterboxes in vain!
Deception, outright lies, pre-meditated, cold-hearted fakery. Everything about this piece of communication and design is intended to fool the recipient, whether they be someone who can immediately spot the deception a mile off and immediately throw it in the recycling bin where it belongs, or a geriatric pensioner with no money to spare living with the false belief that Reader's Digest is still an organisation of integrity.
If they came to me to design this letter—I'd tell them to bugger off.