Oct 11
universalheadBoard & Miniatures Games BattleLore 4 Comments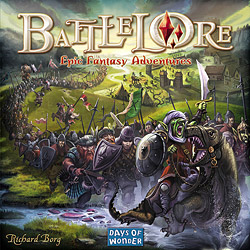 I'm finally having a holiday; very soon my girl and I fly off to New Zealand for a couple of weeks where we'll drive around the South Island wherever the whim takes us. I can hardly wait to get away from my computer and indulge myself in fresh air, long walks, Alpine-like scenery and no email. My wrist and arm hurt, I'm burnt out, and I'm way, way, way overdue for a break.
In the meantime, have a look around Battlelore Master, a new fan site I whipped up a few weeks ago (probably when I should have been working). You'll notice I did save myself a bit of trouble by reusing some Headless Hollow code and graphics (I'll get around to customising it more later).
I've sung the praises of a game called Memoir '44 by Days of Wonder; well, this shares the Commands and Colors system by Richard Borg, but is designed for historical medieval warfare or fantasy-themed battles. Days of Wonder are really going all out with this one, planning a long-term series of expansions, extra armies and figure blister packs. It's looking incredible.
I've done a fan site before (The World of Tékumel) and they not only give me a chance to make a particularly visually appealing site in a fun genre, but are good additions to the portfolio and can lead to client contacts. BattleloreMaster.com uses a MovableType shell like Headless Hollow, but also features a set of discussion forums. I'm betting Battlelore is going to be a hugely successful game system, so here's hoping the site will become the number one stop for fans of the game.
Even when I'm not designing for work, I'm designing for play. No wonder my wrist hurts! Time for two weeks R&R. More when I get back, hopefully refreshed and re-inspired.