Jan 31
universalheadOpinions religion 3 Comments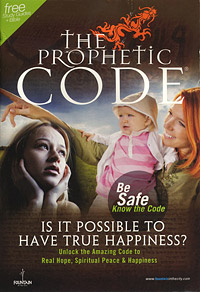 I received this little beauty in my mailbox today. I immediately rang the Reverend over at Tetherd Cow to share the good news, and in the brief pauses between my indignant splutterings he suggested I blog it. Or if you don't want to, he went on, send it to me and I'll blog it. Hold on, he said triumphantly, let's both blog it!
Calm in the knowledge that his finally honed sense of the ridiculous would be the perfect foil to my impotent outpouring of rage at the stupidity of mankind, I agreed to a world first: a simultaneous posting by Headless Hollow and Tetherd Cow on the same subject!
Let's have a good look at this gem, shall we. From a design point of view, we have here a classic example of jumping on the bandwagon long after the bandwagon has left town. Note the pseudo-Da Vinci Code stylings. Let's sit in on the design meeting …
Client: "I was thinking we should make it look like that Da Vinci code movie, because those sinners out there are all obsessed by that stuff, and if we do it in the same style, we might actually trick them into believing that it has something to do with the Da Vinci code and get them to read it before they realise that it's actually a Christian flyer, 'cause then we'll actually be fooling them because we've subverted the style and are using it for our own worthy cause and we're therefore not only being culturally relevant but cleverly twisting around the whole sinful Da Vinci concept into a pure and Christian one!"
Designer: "OK. I've got this clip art picture of a Chinese dragon I can use."
But wait, no sub-Christian spin-off church flyer is complete without those two classics—the clean WASP mother with her clean WASP baby, pointing off to the wonderful new horizon just ahead ("we've got the Code—and money—and you don't!"), and the troubled WASP teenager, her face partly in shadow, wondering "what's it all about? Should I let Bobby feel me up, or will I burn in hellfire for all eternity if he touches me there?"
Now, about this Code … sorry the Amazing Code to Real Hope, Spiritual Peace & Happiness®. Shit! I'm not safe! I don't Know the Code! Quick, tell me! All I can say is, lucky for me it's all Free!
Look, if you're Christian, and you feel you really must bother other people with unsolicited mailings, at least be upfront about it goddammit! Don't treat me like a complete frackin' idiot! The truly horrifying thing is, there are no doubt people out there who will be fooled by this transparent marketing junk into actually giving away their contact details. Receiving the postcard in their mailbox, their thought patterns go like this …
Hmm, something to do with the Da Vinci Code, great … everyone's into that … though I only got three chapters in when I was on the beach last Christmas, but the movie's got Tom Hanks in it, so it must be 'serious' … wait— True Happiness? I could do with some of that! The kids are screaming and my husband is having an affair and my life is meaningless and empty and Dr Phil just doesn't seem to be giving me all the answers anymore … and it sounds easy, I don't actually have to question anything or put any effort in, I just need to be told The Code and I'll finally find the answer to all the confusing non-black-and-white situations that life keeps throwing at me every day … wow, I'm sending this in! This is really it this time!
Two weeks later in the newsagent … Shame that Code thing didn't work … hmmm, what's this paperback? 'Six Easy Steps to Real Hope, Spiritual Peace & Happiness'—wow! I'm buying this! This is it! This is really it this time!