Nov 15
universalheadWeird religion 2 Comments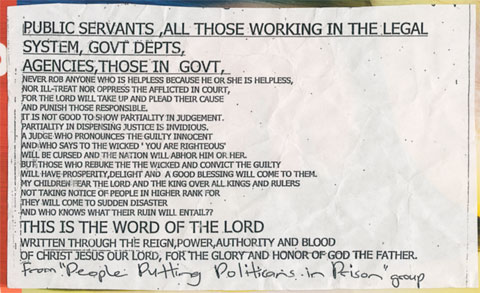 Here's an edifying little piece of paper someone placed in my mailbox today. I can only assume this poor misguided loony had some kind of unfortunate run-in with the legal system, and has responded in the only effective means they know—wandering the streets slipping bits of paper into people's mailboxes calling down the wrath of God on corrupt public servants. I suppose this beats walking into the department waving a shotgun, but let's hope he's not holding that option in reserve. After all, God's on his side, right?
Personally I wouldn't get too excited about the Lord above punishing all those naughty folk who rob the helpless and pronounce the guilty innocent. A quick flip through any history book shows the whole divine justice theory isn't panning out too well.
It's a federal election here in Australia in a week. I wonder if the People Putting Politicians in Prison Group (PPPPG? 4Ps Group?) is running? They might just get my vote!