Jul 01
universalheadBoard & Miniatures Games interview 2 Comments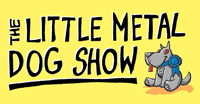 I was recently interviewed by Michael Fox, who runs an up-and-coming games podcast called The Little Metal Dog Show, about my boardgame rules summaries.
This is the first time I've done something like this, and I'm a tad horrified at how I sound in the interview. The low quality audio through my MacBook mic doesn't help either—the lack of detail makes me sound like I have a much broader Australian drawl than I do in person. I also seem to have a rude habit of not letting other people finish their sentenc—!
—anyway, vanity aside, check it out if you wish to hear my incoherent ramblings. I'm off to get some elocution lessons.
PS Sorry Blackbeard: you're not that bad, really, I was on the spot.