May 16
universalheadMovies and TV DVD 1 Comment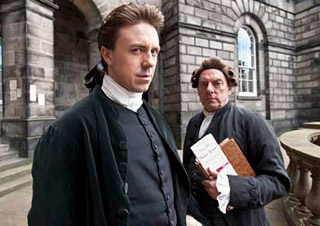 Just finished Season Two of the excellent BBC drama Garrow's Law. My girlfriend and I have been obsessed with English history of late, and it has been gratifying to know a bit about the social situations and historical events that have come up in this excellent legal drama inspired by the life of pioneering 18th century barrister William Garrow. Since the trials are based on real cases that were heard at the Old Bailey, everything from Molly houses to criminal conversation has popped up in the eight episodes of the two seasons.
Andrew Buchan as the interestingly flawed William Garrow and Alun Armstrong as the faithful John Southouse do excellent work, and Lyndsey Marshal, who completely unimpressed in the boring second season of Being Human, is far more convincing here as Lady Sarah Hill.
Highly recommended for those who like to learn something as well as enjoy beautifully scripted, produced and acted drama.