Mar 19
universalheadNew Zealand Nelson, New Zealand 17 Comments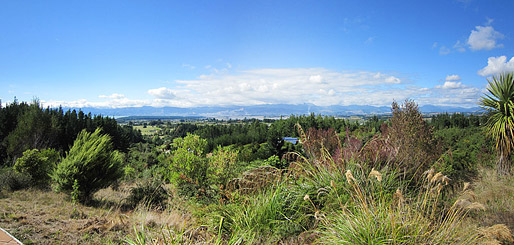 There's been a lot of changes brewing at the Universal Head headquarters. JoJo and I have decided we're fed up with inner-city Sydney life and need a Big Life Change, so after much mucking about we're renting our terrace and moving to Nelson, New Zealand at the start of May. Nelson is a lovely little city of about 60,000 at the top of the South Island, with three national parks on its doorstep, some of the best caving, climbing and hiking in the world and the best weather in NZ.
The photo above shows the view from the terrace of our new rental home. Sure beats the postage-stamp-sized backyard and the shared walls we have at the moment! The house is about four times larger than our terrace here, and on a big block of land; it's an easy half hour out of Nelson and close to a lovely little bayside village with cafes and restaurants. There's plenty of room for friends to stay, an office each and even a seven metre-tall climbing gym room where I can practice my climbing moves!
We've decided to make this change in our life because we're sick and tired of gridlocked traffic, planes flying ten feet over our heads, hordes of psychotic barking dogs, millions of frantic people, polluted, humid air, and all the stress and madness of living in the biggest city in Australia. It just seems a crazy way to live and the time is long overdue to focus on the most important things—health and happiness.
So, I'll occasionally be updating this blog with a little taste of what it's like to move from a big city to a very small one, if you're interested—the joys and the inevitable challenges. Whether we end up staying in NZ or moving on to somewhere else is yet to be decided, but it's going to be a fun experiment trying on a completely different life for size.