Oct 19
universalheadTheatre No Comments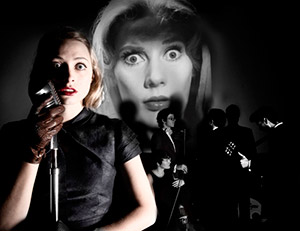 As part of the Nelson Arts Festival, last night at Nelson's Theatre Royale we saw a live treatment (complete with band, actors and foley artist) of the 1962 B-movie horror classic, Carnival of Souls. It was remarkably good.
I saw the original film quite a few years ago and was struck by how well made it is; despite the slow pace and the predictable plot (especially for modern audiences), the direction and cinematography have given the film cult classic status, influencing directors such as Lynch and Romero. Made on a shoestring budget in three weeks and ignored at the time of release, it's a great shame the director Herk Harvey never made another feature.
This presentation took the film to whole new heights, with a clever new score by Leon Radojkovic performed live by an excellent band, and four accomplished actors playing all the roles. Chelsie Preston Crayford, who voiced Mary (the stunning Candance Hilligoss) was particularly excellent. Gareth Van Niekerk pulled off foley (sound effects) duties from his solitary booth at the side of the stage, covering everything from footsteps to jangling keys to gurgling water.
I was particularly impressed by the way the original script wasn't changed and the actors didn't ham it up too much, beyond a few extra "hmmmms" and some exaggerated accents. It struck a good balance between being entertaining, sometimes funny, and yet largely preserving the original integrity of the film—even increasing the mild scares of some scenes with some well-timed musical stabs and creepy organ themes.
A fantastic night out in Nelson, enhanced by the stress-free pleasure of easy parking close to the venue, something we Sydney escapees still find a joy. You can get a taste of the performance here.