03 Jun 09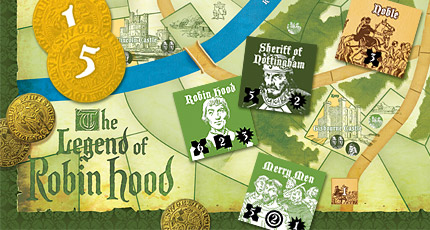 Much like everyone I know, my workload is a little light at the moment. That probably means I should take the time to update my business website, do a bit of ringing around, work on new business strategies, right?
Wrong! I think I'll recreate an old Avalon Hill game from the '70s from scratch!
I became aware of The Legend of Robin Hood when I saw a review of this little-known 1979 gem on Gameshark and thought it sounded just like the kind of game I like. I was about to buy a copy on Ebay when it struck me that the game was pretty simple—board and counters—and that it really could do with a graphic revamp anyway. As if I haven't got enough in the way of personal projects on my plate …
So, after a couple of weeks work in my spare time, here it is—a complete remake of the game with a new large board, large counters, a double-sided rules summary and double-sided play reference sheets.
As Barnes pointed out, this is a game that really relies heavily on theme, so I hope you'll agree this revamp makes the whole game experience just that bit more immersive and enjoyable.
I have no idea of the current copyright status of the game—possibly it has reverted to the designer Joe Bisio. Of course this is a completely not-for-profit project, done without permission. The illustrations I used on the board and counters were originally by Stanley Herbert and taken from England: Book 1 The Medieval Scene by R.J Unstead (A&C Black, 1963), again without permission. They have that 'Boy's Own Adventure' feel that I felt worked really well for the Robin Hood theme. Oh, and the logo is a shamelessly modified version of the title screen from Errol Flynn's 1938 film The Adventures of Robin Hood.
You can download the new version here. Enjoy!