Feb 25
universalheadOpinions 5 Comments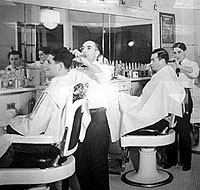 For the last few years I've been regularly getting my hair cut at a tiny barber shop on King Street in Newtown. There's a lot of things I like about this little place. There are only three chairs, and just enough room to squeeze behind them, and you don't come here for anything fancy in the haircutting department. Still, it's best to come on a weekday as there's usually a queue milling about on the pavement on the weekends.
I get an 'extra zero', which is about as short as you can get without having your head shaved with a razor. (Why extra zero? Wasn't just zero enough?) I like the fact that I've been going for about three years, and none of the guys there have asked me my name, or told me theirs. They'll always ask "how are you?" when you come in, and give you a friendly goodbye when you leave, when I always say "thanks guys, see you next time". If you feel like having a chat that's fine, you can talk about the weather or what you did on the weekend or how busy work is at the moment; but if you feel like sitting there and not saying a word that's just fine too.
Not only do I get my extra zero cut, but they always use a cut-throat razor to go around the ears and the back of the neck afterwards, and sometimes I even get a bit of a head rub. But it's always a fast, professional, no-nonsense operation, and my hair is cut and I'm out the door, feeling freshly shorn again, in no time flat.
They've never tried to get to know me, or give me a little credit card to join their 'barber club' so I can get a dollar off after ten cuts, or sent me an email newsletter, or had a ten percent off day. I just go there, get my haircut properly, and pay them $10. I will therefore continue to go there, get my haircut, and pay them $10 (hell, they can even put it up to $12 eventually, though just giving them a ten buck bill is easier), every few weeks until the proverbial cows come home. Probably literally as I will have moved to the country by then.
Personally I think modern marketing gurus could learn a thing or two from this little barber shop.