Oct 21
universalheadComputer Games 5 Comments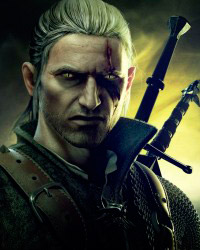 Yes, I'm angry too
The Witcher and The Witcher 2 get high praise from PC video gamers as being complex, immersive, adult-oriented RPGs. By the way, I always find it amusing when these games are called 'RPGs'—roleplaying this is not, and despite the occasional moral decision or choice of endings, they hardly come within an orc's roar of the possibilities of real roleplaying games. Anyway, I digress. My message here is to Mac video gamers.
I first attempted to play The Witcher via Valve's game distribution system Steam, and the game did nothing but crash my computer. I tried all kinds of technical mucking about to get the thing to work, doing the usual trawl through forums and websites and following arcane instructions, but no luck. I also discovered that the game wasn't even a proper port, but simply stuck in some middle-man emulation wrapper. Though they happily take my money, Steam take no responsibility for anything they sell actually working; but after complaining enough I eventually convinced them to credit my purchase (it was only $10) and bought Faster Than Light instead (a fun little game by the way).
I know, I should have learned my lesson, but the release of The Witcher 2 for Mac the other day tempted me to try once more. This time—since I've vowed never again to use Steam—I bought and downloaded it from GOG.com for a bit over $20. Lucky it was cheap, because despite the fact it actually does work and play this time, I'm not happy with its performance. On my brand new 2.6Ghz quad-core Intel Core i7 MacBook Pro with retina display, 16Gb RAM and 1024Mb NVIDIA GeForce graphics card, I can't get anywhere near a decent frame rate with high quality graphic settings; a particularly annoying quality when you're trying to make quick clicks with a stuttering mouse cursor during combat. It's certainly playable, and can still be graphically impressive, but I have to set the screen size and quality settings to 'low spec'.
Low spec? That's just ridiculous. While PC gamers scoff at Mac graphic cards, it's not because the Mac isn't capable of handling games like this. I played Call of Duty 4 on this machine, full screen at 2560 x 1440 and 16:9, with every setting completely maxxed out, and it looked incredible and played smoothly, even in the most complex battle scenes. Why can't The Witcher 2 work as well?
Another annoyance is that you have to completely quit the game and start again if you want to tweak the graphic settings—making the process of optimising your game far more time-consuming and difficulty than it should be.
So if you're a Mac user and you're tempted by either of these games, take my advice—forget the first one, and take a long hard look at your Mac specs before buying the second. Anything less than a top-of-the-line Mac and I think you'll be greatly disappointed, and even then the really good graphic settings seem out of reach. I predict we're about to see a lot of complaints about the practical playability of this new port. Personally, I'm fed up with publishers taking advantage of Mac gamers by releasing sub-standard Mac versions—no doubt relying on enough quick sales to justify the effort before word gets around.