Nov 16
universalheadBoard & Miniatures Games No Comments
Last weekend I set off for another weekend of boardgaming, this time to Hamilton for its Boardgames by the Bay event. Unfortunately there is no direct flight from Nelson, so I changed planes at Wellington, where the terminal is dominated by a huge Gollum, diving through the celing to grab for some deliccioussss fissshhheeesss …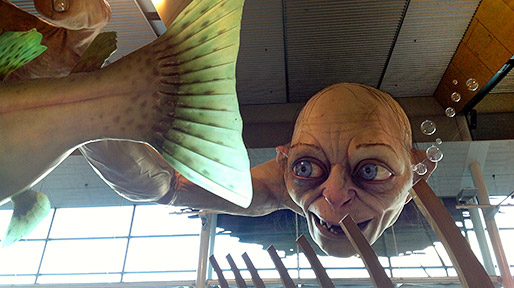 I met up with my NZ boardgaming buddy Minty and his son Sam and the three of us flew on to Hamilton, about 100 kms south of Auckland. Hamilton doesn't really have too much going for it unfortunately; it's a tired-looking city of 200,000 for which none of the locals really had anything too positive to say. Luckily, however, we weren't there for the sightseeing, we were there for the boardgaming—and that was in plentiful supply.
The event was organised by the estimable David Taylor of Seriously Board, who as usual worked his fingers to the bone making sure everyone was having a good time. The venue was a comfortable contract bridge club just outside of town (though I do wish these events were a bit closer to shops, food and bars) with a kitchen and plenty of parking. A respectable number of gamers played all manner of games over the weekend, though unfortunately quite a few people seemed to leave early on Saturday night, perhaps due to the demands of children.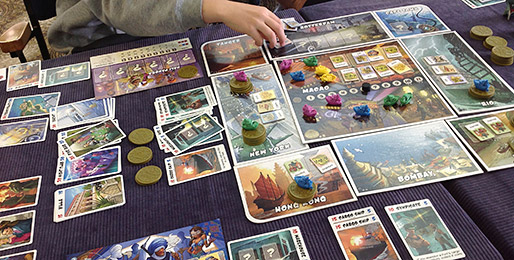 Anyway, I got about nineteen games in over the weekend, running the usual gamut from the incredibly fun (Infiltration, Family Business, Cosmic Encounter) to the 'meh' (Flash Point, London, Sentinels of the Multiverse). The friendly Star Wars: X-Wing Miniatures Game tournament was a highlight; four successive games of this new Wings of War-like game that saw some hilarious moments, especially, in one game, when Darth Vader went crashing into an asteroid instead of joining the fight—luckily his Determination ability and a lucky card draw saw him shrug off the damage and swoop in for the Rebel kill!
I also must mention the wonderful hospitality of Tim and Jacqui, who played host to Minty, Sam and I for both nights (and two other gamers on Friday night). Thanks guys!
Where the eponymous 'bay' is, however, I have yet to discover …